THIS YEAR'S THEME: METAMORPHOSIS
This year's theme for the annual festival is Metamorphosis where we explore the potential for art and creativity to transform people and places.
Camberwell has long been known as a hub of creativity thanks to the continuing legacy of Camberwell Arts College (UAL) and the large community of both professional and leisure artists, pursuing their artistic practice whether at home or in studios across SE5. This rich artistic atmosphere has seen Camberwell evolve into the desirable place where we live and work and over the years the area has been transformed by the arrival of new travel connections, communities, property developments, restaurants, bars, cuisines and other new businesses.
The Festival's aim this year is to celebrate that transformation through creativity and collaboration by linking local artists to businesses with a series of eye-catching artworks to transform Camberwell's high streets. It will also develop an innovative events programme in unusual business locations to encourage the community to rediscover their high street in a brand new way.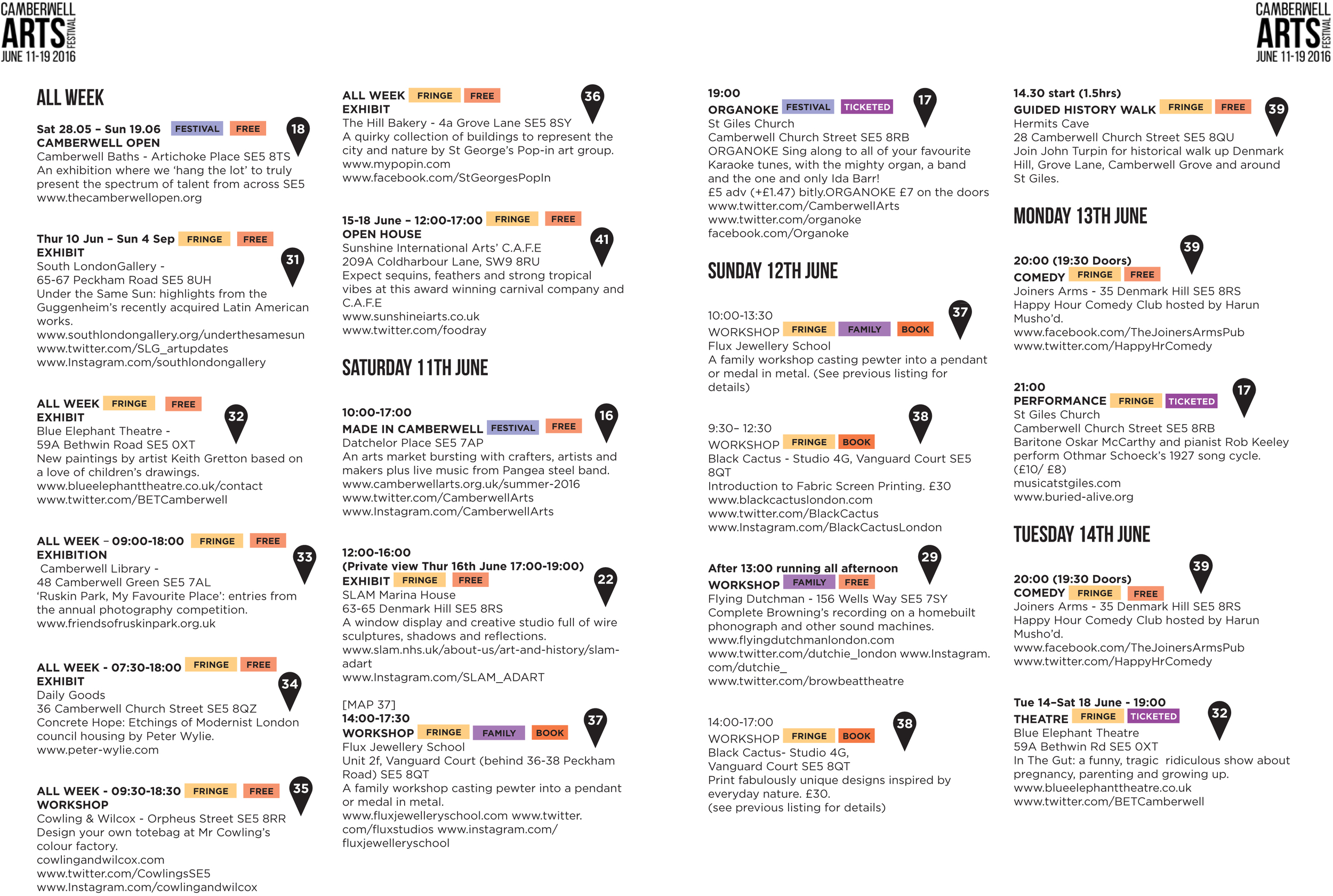 COMMISSIONED SHORT FILM
We are incredibly excited to share with you this wonderful film by artist Sarah Doyle "Following In Father's Footsteps" sung by the music hall star Miss Vesta Tilley, who laid the foundation stone at Camberwell Music Hall.
The film was commissioned by us here at Camberwell Arts and was premiered at the opening of Camberwell Arts Festival on the 11th June at St Giles' Camberwell at the world first Organoke, hosted by another great music hall star Ida Barr
FESTIVAL HIGHLIGHTS
CLICK FOR MORE INFORMATION!
THANK YOU TO OUR FESTIVAL SPONSORS!